10 remarkable innovations from CES 2019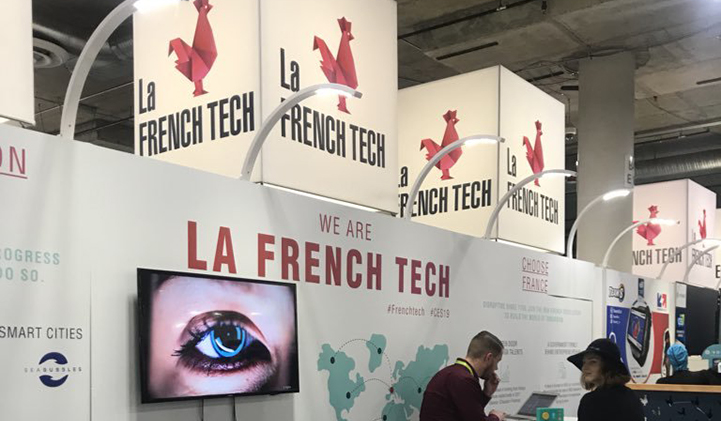 Ten young digital professionals from IIM Digital School went to Las Vegas' CES 2019, the world's biggest gathering place for high technology. The opportunity for them to discover future innovations and to meet the most influential companies and startups in the world.
Maëlys Beulque, the IIM teacher who led this expedition to Las Vegas, chose eleven innovations that impressed her and the students.
One of French Tech's best, the Dream Box promises the equivalent of a long night rest in only twenty minutes! It immerses the workers in a chromotherapy and sophrology atmosphere. The Dream Box is made for a workspace area in order for the workers to release their stress and to have a beneficial break.
The Foldable Smartphone, by Samsung
A smartphone that you can fold. Samsung has been teasing its audience with this concept for a while, and it's finally becoming a reality. Google is working closely with Samsung on this one and will help the company launching the product. Some features and apps will be made exclusively for this foldable phone.
OLED Falls, by LG
Those incredible screens were put on display during all CES 2019. A full 65 feet in width, 20 feet high and using 260 screens, including 112 flat, 76 incurvated and 72 convex. The effect is striking. It gives the illusion of a gigantic wave that goes over the viewer's head.
Automobile technology was omnipresent at CES 2019. One of the most interesting innovation was Nissan's Invisible to Visible (or I2V). With their slogan, "see the invisible", Nissan uses virtual reality, in-vehicle sensors and connected car technologies to make a virtual world around the visible world for the driver.
QTrobot, by LuxAI
The startup from Luxembourg won the European CES 2019 Innovation Award in the category "Tech for a Better World" with this cute little robot. QTrobot was made to help autistic children to improve their everyday life and facilitate their integration into society. A successful invention that has already conquered the entire world.
The Nreal Light, by Nreal
The Nreal Light Mixed Reality Glasses can spread video and images onto the real world. Those curious-looking glasses that seem to come out right from an 80's sci-fi movie will possibly launch in the late summer.
The Solar Cooker, by GoSun
This invention may look like some out of this world gun, but it is actually a Solar Cooker. While it works with solar energy, it can also cook your lunch under bad weather. Its parabolic reflectors focus the sunlight into a vacuum tube and can convert 80 percent the energy into heat.
OLED R, by LG
LG definitely made an impact this year! While LG's rollable screen had already made an appearance at a CES in the past, it's the first time it is shown as a final product that will launch this year. It is as thin as the palm of a hand…
Red Magic Mars, by Nubia
Nubia launches this gaming phone with two touch buttons on the shoulders for a better gameplay experience. To go with its gaming purpose, the phone has a big battery and a liquid-and-air cooling system.
To conclude this list, here is the most delicious innovation of the event, the Impossible Burger 2.0! This soy-based meat is the most convincing meat replacement there is. The burger has left its mark on CES 2019 and will be remembered as one of the most impressive innovations of the year.
Interested in learning about new technologies in France? Check ou IIM Digital School's various majors.