Léa, Promo 2021, A Multifaceted Digital Artist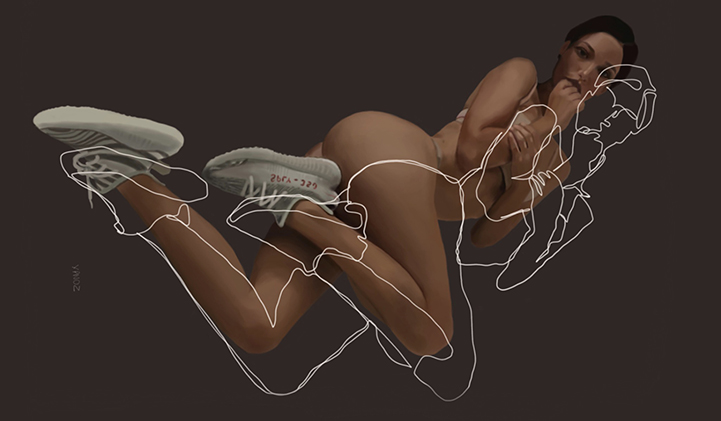 A third-year student majoring in Visual Communication, Léa is a multi-tasked artist who masters digital design, traditional drawing, photography and video. She showcases her creativity through multiple kinds of supports. She has been trying out digital painting for a few years.
Léa Garioud's creations reflect her emotions and her life experiences. When she shares her art on social media, she adds elements like music to really dive her followers in her universe. Above all, she loves painting portraits.
Léa uses the experience she gained thanks to her personal works and her studies at IIM Digital School to blossom in her professional life, as artistic director at Digital Village.
Digital Painting, Léa's Catharsis
Photography has been for me the first way to represent reality as I saw it. I started digital drawing when I had been offered a Wacom tablet. At first, it was difficult, I had a hard time drawing. Then one day I tried Procreate on iPad Pro and I fell in love. I think that having already tried traditional drawing before helps but it's absolutely possible to start with digital drawing without any artistic background.
"I draw portraits. It's very interesting to try to reproduce human expressions on a drawing. I take inspiration from my emotions. These are my feeling on my canvas."
I've taken the habit to add a small red line my characters' cheek. I wanted to show that my creations are the results of what I've been through in my life, so I now I draw them with the scar I have on my own cheek. At first, it was only on my personal projects, but now I also put the line on my professional works to see where it goes.
My nickname is Ypnoz. I love Greek Mythology, and Ypnoz comes from the god of sleep Hypnos. He's Death twin brother and Morpheus' father. Despite his dark side, he is the personification of peacefulness and resting of the soul, and I like this idea.
IIM Digital School helps young digital artists
I wen to IIM just after my baccalauréat. Today I'm in third year, majoring in Visual Communication and I'll be entering the Artistic Direction Mastère next year. I had other opportunities in other schools but I chose IIM because it teaches all of the aspects of the digital world. Since I didn't really know what I wanted to study, the first year allowed me to try all of the majors to take the right decision.
I chose the Visual Communication major because it's the one that fits my needs the most. I also talked with older students to know more about this major, and it totally matched my ambitions.
I'm part of Poletech student association, and I learnt a lot about photography and video. Studying at IIM allows me to master all of the software I need to work in digital design, such as Lightroom, the Adobe Creative Suite or VSCO, a good tool for smartphones and tablets.
My advice to students in Visual Communication would be to always stay curious. You should open your mind to any kind of artistic discipline, even the ones that seem less attractive to you. In our area of expertise, it's very important to express our feelings, so I think you shouldn't be afraid to show some vulnerability.
You should not compare yourself to other artists' works, and persevere even if the result is not satisfying at first. For example, I'm currently working on a Chihiro fanart (from Spirited Away, my childhood's movie), even if for now, it looks a bit messy, I won't give up!
Interested in Visual Communication? Check out IIM Digital School's various majors.