Impulsion: The Indie Game Made By Three IIM Students XPed Its Way To Steam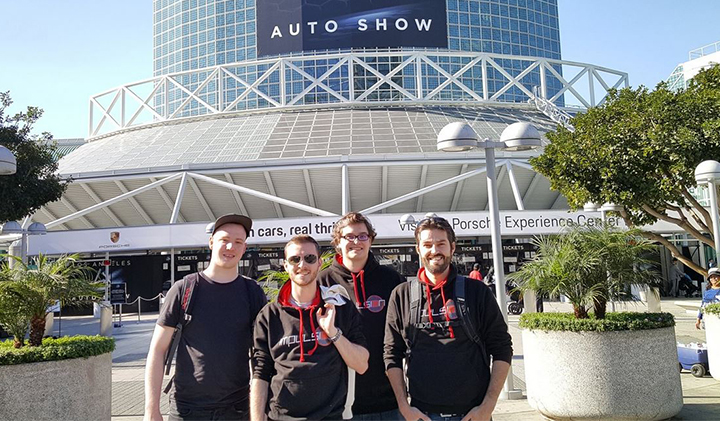 After winning the Ping Awards for Best Student Video Game in Paris and being nominated for the Game Awards in Los Angeles and at the BIG festival in Brazil, The Impulsion Team leveled up once again! The three former students have founded their own independent video games studio and launched Impulsion on Steam with the help of the indie games producer Playdius.
Here they go! Impulsion, created and developed at IIM Digital School by Maxime Lupinski, Rémi Bertrand and Hugo Verger, is now available on Steam for 12,99€.
The Launch of Impulsion on Steam
The Impulsion team won the Best Student Game award at Paris' Ping Awards. Then the indie video games producer Playdius asked Maxime, Rémi and Hugo for a partnership. The three students were already in touch with other producers, but Playdius offer matched their vision better. "We are very satisfied with this partnership. Playdius is reactive and understanding. It is really a great experience, especially for young developpers like us."
Impulsion was finally launched on Steam in July, 19th 2018.
"The release date was chosen by Playdius according to their schedule. Considering the fact that they are dealing with several projects at the same time and with the E3 Expo that was soon approaching at the time, that would have been a mistake to release our game earlier."
Defy gravity and test your reflexes
The first person platform game allows players from all over the world to defy laws of physics and to master gravity on PCs. And for those who want to be on top of the game, a Competition mode and a Speedrun mode are also available!
The Story mode gives access to 25 levels and hours of gameplay. It immerses the player in a sci-fi universe full of humoristic dialogues.
"Run, run, run…Boost…Jump…Good luck!". The game's teaser sets the mood. Announced in June 2018, the game is presented in English to aim at a larger audience. Impulsion is a Portal-like game that takes the player out of space. The goal is to escape the maze by using wits and skills.
Impulsion: nominated in Brazil
Since 2012, Brazil's Independent Games Festival, or BIG Festival, is the most important independent games festival in South America. For a week, from June 23rd to July 1st, a lot of games both national and international were competing. This year, the festival welcomed more than 36 000 visitors and 87 games were presented. It was also the first year for the student game category.
"It's a great opportunity to promote the game in a country with strong potential regarding indie games."
A great addition to the indie video games, Impulsion is not about to stop gaining XPs!
Interested in learning Video Games? Check out IIM Digital School's various majors!