Live Action Role-Playing Game by Students' Association Just For Geeks: A Fun Way To Learn New Skills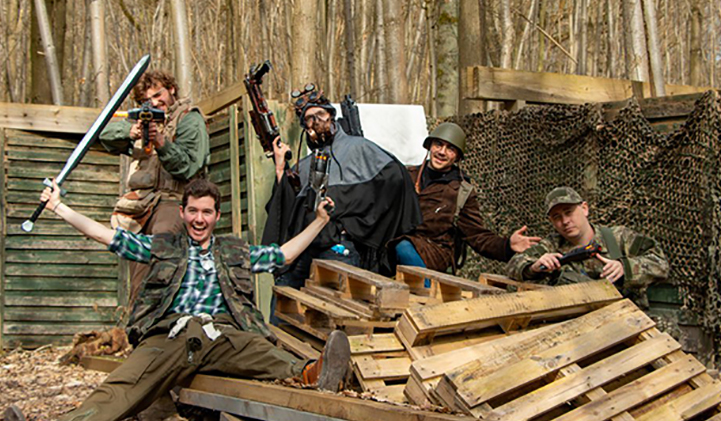 Just For Geeks, Pôle Léonard de Vinci's students' association for pop-culture lovers, has recently started to get involved in Live Action Role Playing Games. Those activities require various skills in multiple areas, that may be useful for the professional hiring process.
Who said that geeks spent all their time in their room in front of a computer? Live Action Role-Playing Games (or LARPs) are outdoors role-playing games where participants have to embody their character and act like them. This activity, while relatively unknown by the general public, has gained popularity along with the geek culture.
Just For Geeks, one of Pôle Léonard de Vinci's 25 students' association, naturally took interest in LARPs and offers its members to take part in it a couple of times a year.
Live Action Role-Playing Games, an experience for skilled-geeks
Live Action Role-Playing Games might seem like the nerdiest thing there is at first glance, but they are far more than that. For a start, since LARPs often involve fights, it requires some training. The members of the association Just For Geeks train at IIM's Dojo with fake swords. Acting is another skill that LARPs' participants have to master since the games follow a script and require the players to physically portray their characters.
Only the players with the best team spirit can win a LARP, as team building and team gestion play a huge part. It also demands some leadership skills, a great sense of improv… and just like any other sport or game, LARPs allow the players to focus their competitive energy in a healthy way to reach for a certain goal.
Ambition, flexibility, team spirit, leadership: those are the skills that Just For Geek's LARPs players learn and that they'll be able to use in their careers… while having an absolute blast!
How to learn new professional skills just by geeking?
Being part of a students' association such as Just For Geeks is an excellent way for IIM's students to gain skills while living their passions. If the activities offered by Just For Geeks are fun, such as role-playing, board games, card games, video games or cosplaying, the association also requires a great deal of organisation.
Damien, a fifth-year IIM student majoring in Artistic Direction, has been Just For Geek's president before managing its communication. With this experience, he easily found his internship as a communication manager in his third year. He now works for RATP (the Parisian Transports Company).
"Being an active member of an association is a true advantage on a curriculum. Companies always got interested in my associative activities, which largely increased my chances to be hired. Just For Geeks also taught me a lot about event planning, digital communication and overall projects management".
Companies nowadays are looking for people rather than profiles, and often enjoy candidates that have unusual hobbies. Soft skills (personal skills) and mad skills (skills related to hobbies) represent a huge recruiting factor, and they can be learned via students associations. The crazier the activities are, the better!
Joining an association like Just For Geeks can help younger students that have no professional experience to find their internship. It is also a great opportunity to create contacts or to build a mentor/student relationship with older students.
Interested in learning Video Games? Check out IIM Digital School's various majors.