Asterix, the Secret of the Magic Potion: one of France's biggest 3D animation success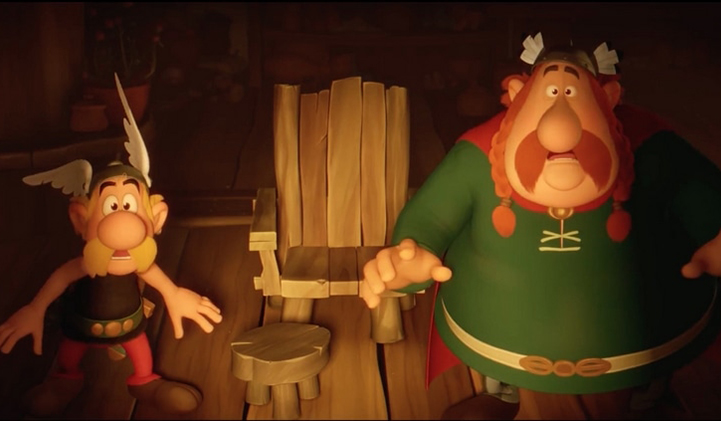 France, the homeland of cinema, is also famous for its high-quality animated movies. 3D animation is particularly popular among French people. This year, Asterix: the Secret of the Magic Potion that just came out on DVD and Blue-Ray took French box-office by storm.
Marion Bayard, promo 2013 at IIM Digital School, worked on the movie as director of production, under the direction of Alexandre Astier (who also created Kaamelott, one of France's most successful TV series, that still has a huge impact on French pop-culture) and Louis Clichy (who previously worked for Pixar on Up and Wall-E). It is the second Asterix movie to not be adapted from one of the comics, after the Twelve Tasks of Asterix in 1976 (directed by the comics' creators, René Goscinny and Albert Urderzo).
The story takes place in 50 B.C during Julius Ceasar's Conquest of Gaul and focuses on a small village that still resists the Roman Legions thanks to a magic potion that gives a super-strength, made by the village's druid, Getafix. In this movie, Getafix is looking for a successor with the help of the village's heroes, Asterix and Obelix. The movie plays with anachronisms, pop-culture references and witty humour.
Asterix: The Secret of the Magic Potion, an international success
Asterix: The Secret of the Magic Potion's trailer
Asterix: The Secret of the Magic Potion is the highly expected sequel of Asterix: The Land of the Gods (2013). The movie finally came out in December 2018 and played for more than 15 weeks. About 4 million French people came to see the latest adventures of the famous Gaul, and the movie scored the best box-office for a French animated movie since Arthur and the Minimoys, twelve years ago. It did way better than any Asterix animated movie.
Asterix: The Secret of the Magic Potion even sold more tickets than some animated blockbusters sagas like Kung Fu Panda, Cars, Dragons, Madagascar, Ice Age or Oscar winner Spider-Man: into the Spiderverse.
Asterix is not only a French cultural phenomenon, but it is also highly appreciated in some European countries. It scored a box-office of 2,2 million spectators in Spain, 1,8 million in Poland and 1,1 million in Russia.
It came out in Bulgaria, Croatia, Czech Republic, Romania, Australia, New Zealand, England, Turkey, Ukrania and even in the USA where it made 393 000$ (The other Asterix animated movies didn't even come out in the US.) It is still playing in Italy and Germany, the two countries where Asterix is the most popular outside of France. With its Pixar-like animation, its strong script, its well-rounded characters and its humour, Asterix: the Secret of the Magic Potion had all the ingredients to make it into the top of 2018 French box-office.
Working on a blockbuster animated movie: the story of Marion Bayard, ex-IIM student
Asterix: The Secret of the Magic Potion's animation was made by French studios Mikros Animation in Paris, who regularly works with DreamWorks and Paramount. Marion Bayard, who graduated IIM in 2013 and majored in Visual Effect, has been working for Mikros Image since 2014, first as a production manager, then as director of the production. She entered the studio thanks to one of her IIM classmate who had worked for Mikros Image as an intern.
"When I entered Mikros Image, the work on Asterix: The Secret of the Magic Potion had just begun. Despite being a junior, Mikros trusted me because I had already proven myself with the first two clients they made me work with, DreamWorks and Paramount.
IIM also provided me all the tools I needed to be sucessful in the 3D animation field. At IIM, students form all of the majors have to work together, and this pluridisciplinary aspect allows students to be multitask: a true adventage when looking for a job. I graduated IIM with managment and digital design skills besides my animation studies.
This is thanks to all of those skills that I could convince Mikros to hire me and to let me work as a director of production on such a big movie despite my young experience. They were looking for a director that also knows about digital design and animation, in order to better manage the animators. In this field, it is fundamental to multitask. "
Interested in 3D animation? Check out IIM's Digital School majors.