6 of the Best French Animation Studios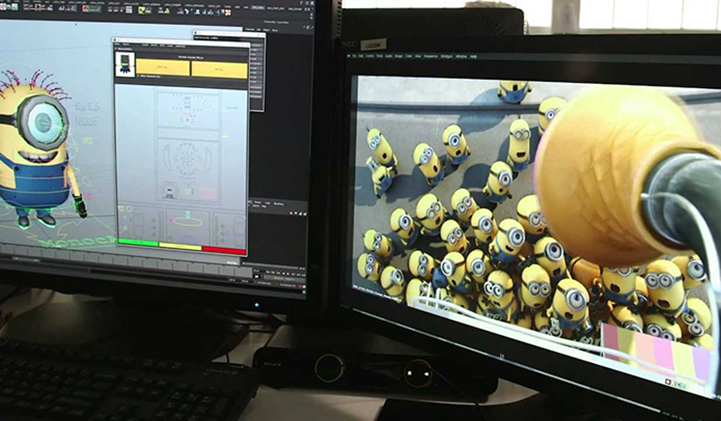 France is not only the homeland of cinema, it's also a very active producer of animated series and films. French animators have gained an excellent reputation all over the world, and some of the best animated studios are located in Paris.
Studying animation in France garanties you the best chances to succeed as an animator.
The efficiency of French animation studies
Since the level of excellence required to work as an animator is higher than ever, French animation schools have adapted their courses. French classes are extremely diverse, and students learn all of the aspects of an animator's tasks.
In schools such as IIM, students in Animated Films and Visual Effects can also work with students from other majors, and thus learn new skills from them.
The Animated Films and Visual Effect major allows students to both take theoretical classes and work on numerous projects, very often under the request of clients from outside the school.
Students are also required to do internships, which confronts them directly to the working life and allow them to apply the skills they have learnt at school.
French animators have gained an excellent reputation, and big animation studios such as Pixar or Dreamworks hire them a lot. Louis Clichy for example worked on Pixar's Wall-e and Up before returning to France to now co-direct the Asterix animated movies.
Where to work as an animator in France ?
Freshly graduated French animators don't necessarily need to go abroad for work. Some of the best animation studios in the world are located in France.
The most famous one is the Illumination Mac Guff studios, which produced the Despicable Me series, The Secret Life of Pets, Sing!, The Lorax and the new adaptation of the Grinch that will come out in november.
Mac Guff Ligne studio was founded by Jacques Bled in 1986 as an SFX studio. The first animated movie Mac Guff produced was master of French animation Michel Ocelot's Azur and Asmar in 2006, followed by Dragon Hunters in 2008.
They met international success with Despicable Me in 2010. They merged with Illumination Entertainment, a branch of Universal Pictures in 2011 and became Illumination Mac Guff.
Today, Illumination Mac Guff is one of the biggest animation studio in the world, the leader of European animation, and is located in Paris. Two of the studio's employees came to IIM to give advice to the students in 2017, on how to produce the best animation showreel.
TAT Productions, created in 2000 by David Alaux and located in Toulouse has started to grow in popularity recently with their 2017 animated movie Les As de la Jungle, adapted from their eponymous animated series.
The studio won numerous prices and was chosen by director Alain Chabat to produce the short movie that was going to be presented before Astérix & Obélix: Mission Cleopatra, one of France's biggest cinematic success. They are currently working on four animated movies, one of them being the sequel to Les As de la Jungle.
Mikros Animation, a branch of Mikros Image, is located in Paris. Created in 2012 for the production of the animated movie Asterix: The Land of Gods, Mikros Image France also took part in the making of Captain Underpants (2017) and Sherlock Gnomes (2018).
The studio will be in charge of all the future Astérix animated movies directed by Louis Clichy and Alexandre Astier, including Astérix: The secret of the Magic Potion that will come out in December 2018. They are also working on an animated series called Team DroniX.
Les Armateurs, located in Paris and created in 1994, produced some of the best of French animated movies. Their very first project was Kirikou and the Sorceress (directed by Michel Ocelot), one of the most acclaimed piece of French animation worldwide.
The studio then produced two Kirikou sequels, another animated feature by Michel Ocelot called Princes and Princesses, and the critically acclaimed Triplets of Belleville and Ernest and Celestine.
TeamTO, founded in 2005 in Paris, not only produces its own animated series and movies such as Gus : Petit Oiseau, Grand Voyage, My Knight and Me and Angelo Rules, it also works with Disney on Pyjamask, Sofia the First and Elena of Avalor.
Two animated series are currently in development, Jade Armor and Take it Easy Mike. TeamTO has a studio in Los Angeles to make partnerships with the USA easier.
If you wish to work on animated series, look no further than Xilam studio. Located in Paris, it was founded by Marc du Pontavice in 1999 and produced most sucessful French cartoons. Oggy and the Cockroaches, Space Goofs, the Daltons, Zig and Sharko, the Ratz and Mister Magoo to name but a few.
A lot of their series are also broadcast abroad: for example, Space Goofs, back in the 90's, was first on the Fox network in the US before even being shown in France. The studio only made one animated feature movie, Oggy and the Cockroaches : the Movie in 2013.
A selection of French animated movies and series to watch
What better way to learn about French animation than watching the country's best works? Here is a small selection of animated French movies and series that any animator wannabe should check out:
All of the Astérix animated movies
There is not one French who haven't at least watched one Astérix movie. His creator, René Goscinny, took inspiration from Walt Disney himself. There are currently nine Asterix animated movies, with the tenth one, Astérix: the Secert of the Magic Potion, coming out in December from Mikros Animation France.
Despicable Me (Mac Guff Ligne/Illumination Mac Guff)
Maybe the most famous French animated movie in the world, it is always interesting to analyse how a movie can become such a success.
Kirikou and the Sorceress (Les Armateurs)
One of the most beautiful animated movie you will ever see. It is poetic, with strong moral and flawless animation.
Oggy and the Cockroaches (Xilam)
The most famous French cartoon. It took a lot of inspiration from American cartoons like Tom and Jerry but managed to modernize it and adapt it to the French audiance.
Miraculous: the tales of Ladybug and Cat Noir (Zagtoon)
Created by Thomas Astruc and partially produced by Zagtoon, the series tells the adventures of two Parisan superheroes, Ladybug and Cat Noir, who fight against the forces of evil in the French capital. The series is a homage to old school Magical Girls like Sailor Moon, and adds action and humor to the french touch.
A Monster in Paris (Bibo Films)
Directed by Bibo Bergeron (who worked for DreamWorks and directed the Road to El Dorado and Shark Tale), the movie takes place in Paris during the rise of the Seine in 1910. It has a great atmosphere and follows the footsteps of Beauty and the Beast and The Phantom of the Opera.
If you want to learn animation in France, check out IIM's Animated Film and Visual Effects major.