Incredibles 2 on top of 2018's French Box Office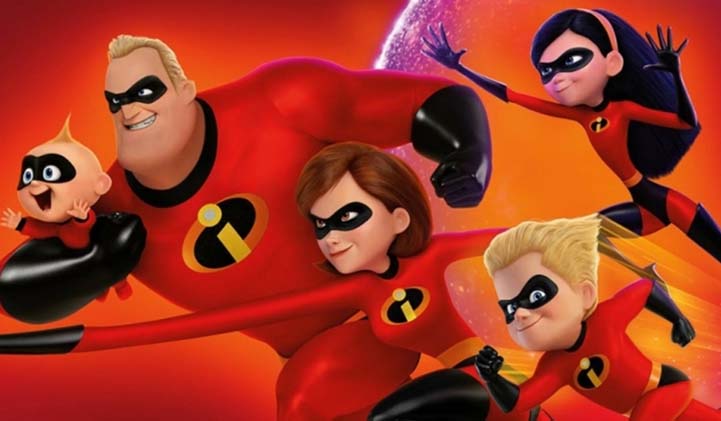 France is known to be a wonderful country regarding the art of animation. Some of the best-animated features were made in France, like the famous Despicable Me series. This year, France proves once and for all its love for animation by putting Pixar's Incredibles 2 on top of the Box Office.
5,688,095 tickets were sold for this movie. It was played for 20 weeks in cinemas and therefore did better than Avengers: Infinity Wars and two extremely anticipated French comedies, Les Tuches 2 and La Ch'tite Famille.
Incredibles 2: the super movie that conquered France
The French version of Incredibles 2 is super-impressive!
Fourteen years after the success of the first Incredibles movie, director Brad Bird finally releases the highly expected sequel to the adventures of Bob, Helen, Violett, Dash (or Flèche in French) and Jack-Jack.
Despite being "only" the #4 highest grossing movie of 2018 worldwide, Incredibles 2 took the French Box Office by storm.
With more than 5,5 million tickets sold, it's the biggest cinematic success of 2018 in France. Even the top 3 grossing movies worldwide, Avengers: Infinity War, Black Panther and Jurassic Wolrd: Fallen Kingdom could not kick Incredibles 2 out of its first place.
As Brad Bird says on his Twitter : "It is NOT a 'kids movie'. It is animated, and it's rated PG."
With this affirmation, Brad Bird sums up what Incredibles 2 is, and why it has done so well at the Box Office: despite its animated nature (lots of people wrongly assume that animation is only for kids), the movie is not exclusively targeted at a younger audiance. It also speaks to adults, just like the first one did.
Incredibles 2 deals with political and sociological issues. Some of the dialogues are deep and are likely to pass over younger kids' head, like the wonderful monologue of the Screenslaver about the dangers of technology.
With such a large audience reached, it's no wonder that Incredibles 2 is a massive success. Its 'family picture' aspect may have brought the usual French audience, but its deeper meaning propelled it on top.
The success of foreign animated movies in France
Since the earliest era of animated movies, France has always been a huge supporter of this media. Snow-White and the Seven Dwarves (1938) is the fourth highest grossing movie of all time in France, just behind Titanic and two French comedies: Bienvenue Chez les Ch'tis and Intouchables.
The homeland of cinema is indeed very proud of its own industry and it can be difficult for the non-French movies to shine at the Box Office.
However, most of the foreign productions that have managed to make their way through the neverending stream of French comedies are animated features: The Jungle Book (1968), 101 Dalmations (1961), Cinderella (1950) or the Aristocats (1971) to only name a few.
Disney and Pixar movies are particularly enjoyed by the French and often find their place on top of the Box Office. Recently, Moana was #1 in 2016 (with Zootopia being at the third place) and Frozen was also #1 back in 2013.
French animated movies: always a hit!
Illumination Mac Guff, being a French company, is very successful in its own country. The Despicable Me movies have always made it to the top 3, and The Grinch, their latest production, is on top of November 2018's Box Office, beating The Crimes of Grindelwald.
The Astérix animated movies are also extremely popular.
Since 1967, ten animated movies about the famous comic strip Gaul came out, and each of them was a success. Those movies are considered as a cult classic by the French. Astérix even has his own Theme Park!
Currently, Astérix: The Secret of the Magic Potion (which came out on Wednesday, 5th December 2018) made an impressive debut with 253,129 tickets sold on its released date, achieving one of the best openings of the year.
How to explain Incredible 2's sucess in France?
Two factors might have played:
French mostly go to the cinema to have a good time with their family (this is why comedies tend to work better than drama or other more serious movies). Therefore, animated pictures from big companies such as Disney or Pixar are more likely to be successful because they are known to appeal both to the kids and parents.
French animation has an excellent reputation. France has produced a lot of animated masterpieces such as Kirikou and the Sorceress and some of the best-known animators are French. Illumination MacGuff is currently rivalling with Disney (Minions (2015) is the only non-Disney movie to break $1 billion worldwide).
A large number of prestigious French schools give access to animation studies, such as Les Gobelins or IIM Digital School.
The first Incredibles movie was also a hit in France in 2004, with a total of 5,688,549 tickets sold, just behind Les Choristes, Shrek 2 and Harry Potter and the Prisoner of Azkaban.
No matter what happens, Bob, Helen, Dash, Violet and Jack-Jack will always be on Parr with the French!
Interested in learning Animated Films and Visual Effects in France? Check out IIM Digital School's various majors.