A 3D and VR Graphic Universe for Pierrot and Colombine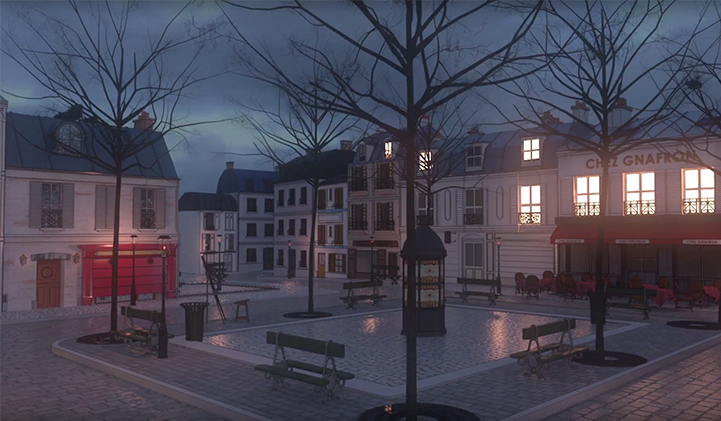 Students from the 3D animation department of IIM created this video as a group project, whose goal was to do graphic research and create a universe for a future animated movie.
They specifically worked on the setting and the characters, choosing to recreate an atmosphere around the iconic Commedia dell'arte characters of Pierrot and Colombine. As for the setting, they decided on Parisian neighborhood Montmartre.
A tailor-made setting for Commedia dell'Arte characters
Students imagined the settings of an animated movie featuring Pierrot and his wife Columbine. Dressed in white, Pierrot wears a loose blouse with large black buttons and wide pants. Pierrot is often portrayed as the naive sad clown, deeply in love with Columbine who often leaves him heart-broken. Clever and witty Columbine traditionally wears a dress. She is a female servant.
The students pictured them walking around beautiful Montmartre, an artistic and historic district, famous for its cobblestone steep streets and the Sacré-Coeur basilica.
Put on your VR headset and dive in the film
The setting was meant to be seen through a virtual reality headset to immerse viewers in the streets of Montmartre. The time period is undefined and remains timeless. Viewers can gaze at the typically Parisian facades of Place du Tertre at sunset, spotting the occasional lit window and an empty cafe terrace. Spectators are in the action and can pretend to be Pierrot or Colombine walking around Montmartre.
A French savoir-faire
France has an excellent reputation in the world of 3D animation. This growing sector is hiring more and more people, at excellent wages in comparison to other artistic positions. France is the third producer of animated movies in the world, particularly because the biggest studios in the USA or Asia subcontract part of their projects to French companies.
French newspaper Le Monde has recently designated IIM as one of the thirteen best schools in animation. IIM offers one Bachelor course and three Master's degrees in the animated films and visual effects department.
Throughout their course, IIM students confront their academic knowledge to professional life, when undertaking internships or junior consultancy project, like the one above. The IIM students who led this Pierrot and Columbine project are Julia Truong, Thomas Vanuxeem, Vasco Potier, Benjamin Laizet, Lucas Belot, Azouz Menguellat, Chaghig Harmandayan, Arthur Lemaire, Lucas Benoit, Quentin Paolantoni, Anthony Magrin et David Wu.