A Welcome Week for the Class of 2023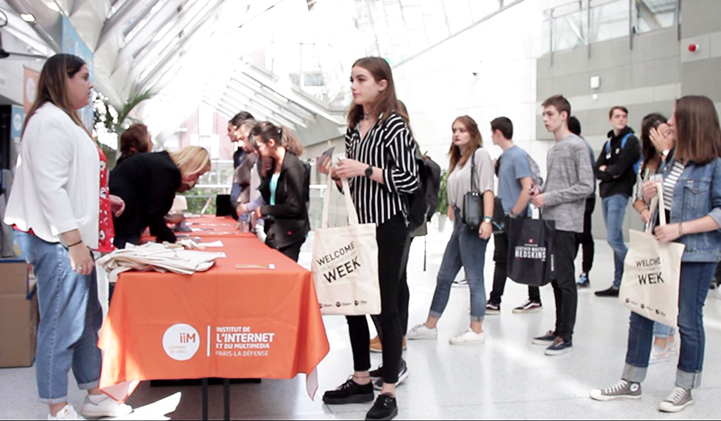 They are joining the preparatory class of the first school dedicated to Internet and multimedia, in Paris. On Monday September 10th, the Class of '23 arrived on campus for the launch of the welcome week. A few days to get familiar with the school, before starting a 5-year programme in digital.
Here are the key moments of this special week at IIM.
Welcome to IIM!
Most of them were born in 2000, have just passed their French baccalauréat and enrolled at IIM after selections to get in the preparatory class.
The registrar's office teams, who will follow them from year one to the Bachelor's and Master's in all five majors welcomed them on campus. After getting their ISIC student cards and their welcome packs, they gathered in one of the amphitheaters.
Emmanuel Peter, dean of IIM, gave a welcome speech before introducing the academic staff in charge of year 1, as well as the professors.
IIMPACT, the school club, was a major actor of this first day. They welcomed the newcomers around a snack. Throughout the year, IIMPACT aims to create strong links between classes through afterworks, meet ups and themed days such as playtests.
A business game to experience cross-disciplinarity
IIM shares the same campus with engineering school ESILV and management school EMLV. This proximity is an occasion to create a one-of-a-kind collaboration with the other schools.
The schools' soft skills department uses this unique educational project to organise events for all students throughout their five year studies.
Something the Class of 2023 will experiment as soon as this week, through a business game.
More than 150 cross-disciplinary teams composed of future designers, engineers and managers will work on a virtual entreprise in the sector of non-permanent tatoos.
A sporty day for freshers
The 1500 students from all three classes of IIM, ESILV and EMLV got together at an olympic stadium near campus. Programme included dozens of fun and sports activities.
Organised by student union PulvWatch and the forty associations from Pôle Léonard de Vinci, this day aimed to help students get to know each other in a casual environment, before starting classes.
The association fair will be held on Friday September 14th on campus. IIM values and support the creation of associations by students, just like it does with sport. The Class of 2023 may choose between thirty different sport activities, whether as an initiation or competition, among which E-sport.
Are you interested in joining a web and digital school? Meet IIM's academics and students at our next open day on campus.