Laura, Class of 2019, Took Second Place in her Category at the Ironman in Nice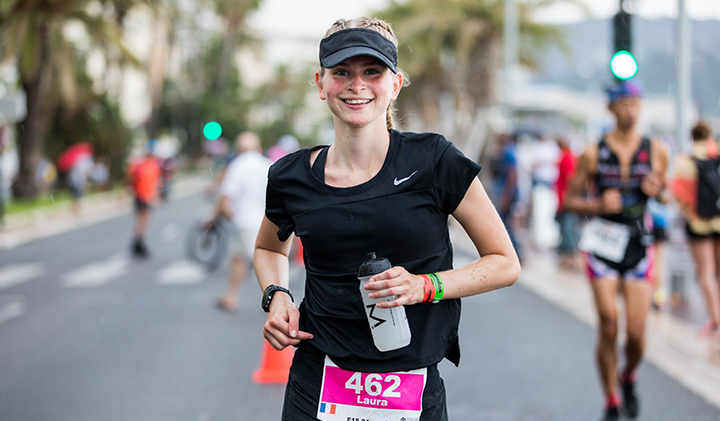 A 2.4-mile swim, a 112-mile a bicycle ride and a marathon … Passionate about sport, Laura Capellier, class of 2019, participated in the Ironman in Nice, France. She took second place on the podium in the 18 to 24 year-old women category.
Laura studies in a work/study programme, in the first year of IIM master's degree in digital communications and social media strategy. She is enthusiast both about digital and sport. This past year, she managed to reconcile classes at IIM, work at Dassault Systèmes and high-level sport training. One goal: be a finisher of the Ironman. This is her story.
Making my interest for digital come true at IIM
As far as I remember, I have always loved imagining, drawing, experimenting. I abandoned conventional educational paths for a secondary school degree leading to a baccalauréat in design and applied art, an occasion to let my creativity blossom. Seeing that the world was constantly evolving, a genuine interest for digital grew in me through the years.
I wanted to be a part of this transformation by entering the first school created to train students to the new jobs of Internet and multimedia.
This year, I worked as an internal communication officer at Dassault Systèmes. I was in charge of managing the company's communities. After the summer, I will be joining the marketing team to work on digital transformation topics. Having a master's degree is a must-have these days. It is the professional experience that can make a difference.
Passionate about sportI did synchronised swimming until 2016. I had to stop practicing after health problems… It was tough for me, for sport is really important in my day to day. I had always dreamt about participating the Ironman in Nice without thinking I could really do it. When I was given the authorization to do sport again mid-2017, I thought it would be a sweet revenge on life, so I went for it!
A year ago, I hadn't been on a bike for twelve years and I was not capable of running more than 30 minutes… Of course, only a few people believed in me. But I wanted this more than anything, so I did everything I could to succeed. I got help from Benjamin Pernet, a personal trainer specialised in long distance triathlons. I prepared myself during eight months for this trial, ten to fifteen hours a week.
An adjusted schedule
Organising myself at work has been quite easy. I had talked about my project during the interview, I was then able to adapt my work hours to my trainings. I would start work early in the morning (7h30) so as to be able to train late afternoons. School weeks were more complicated… I had to respect the schedule. Those weeks were really exhausting.
I remember that when I finished a week of classes and that I had managed to do all of my trainings, it made me really happy because it was a real challenge! Above all, I had the chance to have truly understanding classmates, this helped a lot!
I managed to find a balance thanks to a one-of-a-kind organisation. My trainings were scheduled two to three weeks ahead.
Using what sport taught me at work
If there's one thing long distance trials like the Ironman teaches us, it is patience. I have a better emotional resistance now. I understood quite quickly that stress is energy consuming. Under stress, it is harder to take good decisions or work efficiently.
Now, I take things as they come and try to adapt. I am better organised now and thus, I think, more efficient.
And the icing on the cake: boldness. One needs a lot of boldness to participate in an Ironman at 23 when one starts from scratch. I wanted to do an Ironman to get to know myself better and to see how far I could go. I did it. I know now that whatever I set my heart to, I can do it. The key is to dare (and not to let go).
Reconcile digital and sport
This year, I missed the qualifying rounds for the Ironman world's championship by one place… That's why, for the 2018/2019 season, I would like to go further in the Ironman by attempting to get qualified! I will need to schedule my next races carefully so that they fit in between my class and work weeks. This is no surprise, I would like to work in sport in the future. Preferably in PR/ event management.
Photos by : Yoann RochetteLearn more about the digital communication major offered by IIM, digital school in Paris.